Kamaole Beach Parks, Kihei, Maui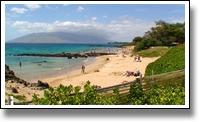 Consistently ranked as the best in the world are the gorgeous Maui Beaches, and among the finest of the Maui Beaches are the trio of Kamaole Beaches and beach park I, II, III, often referred to as the Kam beaches or Kam I, Kam II, and Kam III. These beaches are located in the Southern half of Kihei. These popular beaches draw crowds with their soft white sand, excellent swimming conditions, and park areas that are popular with kids and families for kite flying, picnics, or just relaxing with a book under a shady tree.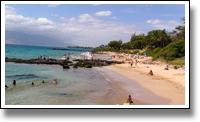 As the naming convention suggests, this stretch of beach is divided into three parts. Kam I has the largest beach of the three and has great swimming conditions. Kam II is further south of Kam I, and the beach is smaller, but is also a good swimming beach.
Kam III is the most south of the three beaches, and it is very popular with both locals and tourists. Also excellent for swimming, and is has more consistent waves that make it also a great place for boogie boarding or body surfing. There is also good snorkeling along the lava rocks that attract colorful fish.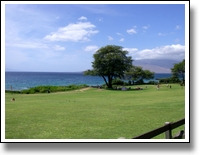 Kam III has the largest beach park area among the three beaches with a lush grassy lawn that meets the sand. Around dusk, this park becomes a popular destination to gather and admire that splendid Maui sunsets. All Kam beaches have lifeguards and facilities. The Kam III beach has a lifeguard station, restrooms, showers, picnic tables, playgrounds, and even BBQ grills. Vacationers will love to spend their days at this beach time and time again.