Kihei, Maui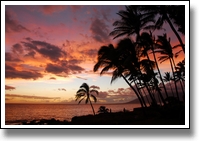 Located on the South shore of Maui, Kihei is one of the fastest-growing towns in the country. Kihei stretches along six miles of sandy beaches, and along side these sparkling waters are mini malls, condominiums, residential areas, cafes, and beach parks. The beaches and ocean that once drew Hawaiians to Kihei continues to beckon sun-loving tourists to make this little beach town a top destination for visitors.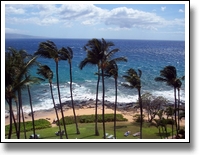 Averaging just 13 inches of rain annually, it once had a barren landscape noted for its dry, dusty, and hot days. All that changed when water was brought in from Central and West Maui in the 1960's. Developers quickly recognized Kihei's potential in becoming a top attraction for vacationers and local residents alike. Before long, shopping centers, strip malls, restaurants, condominiums, residential developments popped up along side the beaches. Today, Kihei is one of the busiest small beach towns in of all Hawaii, with over 60 condominiums, rentals, and a few small hotels. Families and value-seeking vacationers flock to Kihei for its sea, sun, and moderately priced accommodations.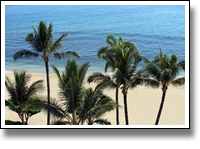 Kihei also enjoys central location, making it easy to get to any part of the island. It is a 20 to 30 minute drive from Maui's main airport. There are plenty of shops and restaurants, and, while many visitors often cook their own meals in their condo accommodations, a desire to eat out is met with a wide selection of restaurants, ranging from fast food, local flares, restaurant chains, and upscale dining establishments.
Kihei's Kalama Beach Park is another favorite among the locals, featuring shaded lawns, palm trees, a ball park, picnic areas, and children's playground. It is also an area prefect for beginning surfing lessons.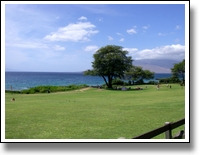 But the most desirable attraction for Kihei remains the sandy beaches that line the coast. The finest of the Kihei beaches are decidedly the Kama'ole I, II, and III beaches, and they are anything but barren these days. Locals, tourists, young, and old have all come to appreciate the Kam beaches' fine white sand and sparkling blue waters. The Kam beaches are also some of the best beaches with lifeguards in Hawaii. But no matter where you are in Kihei, as you walk out of your lodging, there is almost always a beach right across the street for you.