Maui no ka 'oi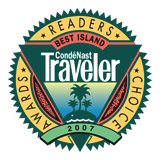 It means Maui is the best. And indeed, this tropical gem was named the "Best Island in the World" twelve out of the last thirteen years by Conde Nast Traveler's Reader's Choice Poll, and it was named "Best Pacific Island" for sixteen straight years. It is no wonder then that nearly 2.5 million vacationers flocked to Maui in 2006.
The island of Maui at 727 square miles is the second largest of the Hawaiian islands with a population of about 150,000 residents. Maui's unique topography, climate, and wide variety of landscapes offers many natural wonders for its travelers. As a first time visitor, you must brace yourself for the many options this island has to offer.
The ultimate Maui experience should include the Road to Hana drive through the breath-taking lush tropical rain forest, the summit of Haleakala (Sunrise at Haleakala if you can get up at ungodly hours, and bring warm clothing!), the beaches of Kaanapali, Kihei, and Wailea, whale watching in Winter season, and last but not least, the boat ride to Molokini for snorkeling, and be sure to include a stop over at Turtle town for a chance to swim with the gentle Hawaiian Green Turtles.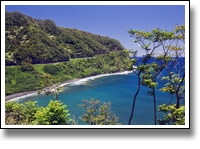 The Hana Highway, better known as the Road to Hana is approximately 50 miles long from the town of Kahului. A trip to Hana will take about 3 hours minimum, but plan to make it an all-day affair, and if possible stop and hike the many trails that lead to waterfalls, visit various tropical attractions, and swim in the famous Seven Sacred Pools at Hana's final destination. While you will be in awe of Hana's incredible natural beauty, be prepared for its demanding driving conditions. The road is very narrow and winding, with about 620 curves. The drive will cross about 59 bridges, with majority of the bridges being one-lane bridges. But the Road to Hana is a must for any Maui itinerary, as its enchanting tropical charm is unrivaled anywhere on the planet. And be sure to purchase a Hana CD tour, so you know where to make your stops and are treated to historical information.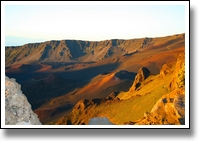 The Haleakala Summit peaks at 7,513 feet above sea level. It is the largest dormant volcano in the world. The approximate one hour drive to the top takes you right out of the sandy beaches of the tropics, and places you into an intense landscape that is completely out of this world. The park is home to numerous endangered species of plants and birds. The summit area provides great views, and there are miles and miles of hiking trails for the more adventurous travelers. If you are planning to catch that famous Haleakala sunrise, be sure to set your alarm for the wee hours of the morning, and bring lots of warm clothing.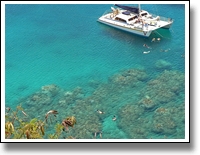 Maui's main attraction is still the sparkling crystal blue waters. Maui boasts 120 miles of coastline, with over 30 miles of prized beaches. Maui's world famous beaches include those perfect for windsurfing and surfing conditions, as well as the white sandy beaches well suited for snorkelers, beachcombers, families and children. South Maui features many popular white sandy beaches in Kihei, Wailea, and Makena. The Kamaole Beach Parks I, II, and III in Kihei are among the local favorites for their excellent swimming, snorkeling conditions, shower and restroom facilities, parking, lifeguards, volleyball courts etc. West Maui features sandy beaches in the Kaanapli area suited for swimming and snorkeling. The Ho'okipa Beach Park in East Maui is the world famous destination for windsurfing. This beach provides excellent and safe viewing areas, be sure to make a stop there to admire the extreme windsurfers who brave the often massive waves there.
Maui is one of the world's top whale watching spots. Humpback whales are attracted to the shallow and warm seas of Maui's south and western shores. Each year from December to March, approximately 3,500 humpback whales migrate near the coast line of Maui to mate and give birth. During this time, whales can often be seen from the shore throughout the day, but if you find yourself longing for a closer look, then hop on a whale watching cruise for closer proximity to these magnificent creatures.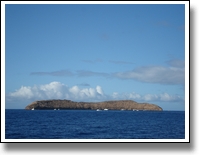 Molokini is an uninhabited crescent-moon shaped island located just 3 miles off the coast of Maui. Its crystal clear waters and stunning underwater marine life makes Molokini one of Hawaii's top snorkeling/dive spots. The Molokini crater was formed by a volcanic cinder cone, with nearly half of the rim of the crater below sea level, causing the interior crater to become flooded. This crater is now home to around 250 species of brightly colored tropical fish, and don't be surprised to find monk seals, manta rays, spotted eagle rays, and an occasional white tip sharks in the mix. Molokini has much to offer to divers of all abilities. Numerous daily cruises bring beginning divers and snorkelers to the crater basin where the protected calm water is only 35 feet deep, yet it offers an abundance of marine life. The experience divers might prefer the back side of the crater with a depth of 350 feet to explore. And when you book that Molokini trip, be sure the boat ride includes a stop over at Turtle Town, so you can introduce yourself to these graceful Hawaiian Green turtles. Remember these giant turtles are protected by State and Federal law, so no matter how huggable these gentle creatures might appear, you must restrain yourself from touching them.
Needless to say, these top attractions are just the tip of the iceberg when it comes to the wealth of activities that Maui has to offer. It has plenty to offer to vacationers of every age and interest. There is a generous supply of sandy beaches for relaxation under the sun, with 81 accessible beaches, Maui has more miles of swimmable beach than any other Hawaiian island. For the golf enthusiasts, Maui offers seventeen golf courses to chose from. And for those who like to shop, there are shops and boutiques that line the streets of Lahaina and in Wailea. And for those tireless adventure seekers, there is an overflow of options to keep them satisfied. All these and more attribute to the Maui being one of the most sought-after destinations in the world..... Maui no ka 'oi.